[극장판] 소드 아트 온라인 프로그레시브 – 별 없는 밤의 아리아
줄거리
"이 게임은 클리어가 불가능해. 어디서 어떻게 죽든, 빠르고……, 늦고의, 차이……." 카야바 아키히코의 데스 게임이 시작된 지 한 달. 이 초난이도 VRMMO 내에서 희생된 플레이어는 2천 명에 이르렀다. 《제1플로어 보스 공략회의》 당일. 자신의 강화에만 몰두하기로 결심하고 《솔로》로 싸우던 키리토. 회의장으로 가던 도중 최전선에서는 보기 드문 여성 플레이어와 만난다. 강력한 몬스터를 상대로 레이피어 한 자루로 싸워 나가는 그녀는 마치 밤하늘을 가르는 유성과도 같았다──. 키리토가 《검은 검사》라 불리는 계기가 된 에피소드. 《제2플로어 보스》 공략전에 얽힌 어떤 소년 대장장이의 비애를 그린 이야기를 수록한 궁극의 새 시리즈 등장!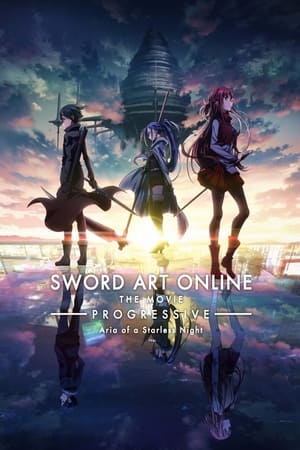 Sword Art Online the Movie -Progressive- Aria of a Starless Night
劇場版 ソードアート・オンライン-プログレッシブ- 星なき夜のアリア
One month after Kayaba Akihiko's game of death began, the death toll continues to rise, two thousand players having already lost their lives to the ultra-difficult VRMMO world of Sword Art Online. On the day of the strategy meeting to plan out the first-floor boss battle, Kirito, a solo player who vows to fight alone to get stronger, runs into a rare, high-level female player. She gracefully dispatches powerful monsters with a single rapier that flashes like a shooting star in the night...
Yoshitsugu Matsuoka

Haruka Tomatsu

Inori Minase
Koichi Yamadera

Hiroki Yasumoto
Nobuyuki Hiyama

Rina Hidaka

Ryusei Nakao

Tomokazu Seki

Yuki Kajiura

Shingo Adachi

Tsutomu Kawahigashi

Yoshikazu Iwanami
Keigo Sasaki
Reki Kawahara

LiSA

Nobuhiro Nakayama

Tetsuya Kawakami
Yosuke Futami
Yasunori Mori

Masami Niwa